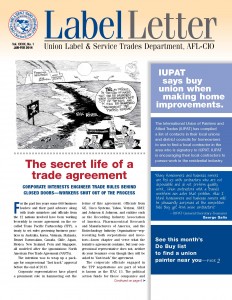 Download "Jan-Feb2014.pdf" 20283_ULST_LL_JF14_Final2_20_14.pdf – Downloaded 557 times – 5 MB
Delight your friends and loved ones with holiday treats made by hard-working BCTGM members! Listed here is a small sampling of holiday sweets made by BCTGM members in the U.S. and Canada (reprinted from BCTGM's website).
Allan Candy Company
Allan Traditional Candy Canes (Peppermint, Cherry and Mini Peppermint), Allan Holiday Collection Candy Canes (French Vanilla & Gingerbread, Butterscotch & Cappucino, Mini Canes), Allan Fruit Buddies Candy Canes, Allan Chewy Candy Canes.
BCTGM Local 350T (Granby, Quebec)
Brown & Haley
Holiday gift boxes, baskets, tins and packages filled with the company's renowned Almond Roca, Cashew Roca, Mocha Roca, Sugar Free Almond Roca and Candy Cane Roca.
BCTGM Local 9 (Seattle)
Dare Foods Limited
A variety of gums, jellies, hard candy and gift tubs, festive filled with Icy & Spicy Mints, Snowdrift Mints, festive colored Ju Jubes and Dare's Scotch Mints.
BCTGM Local 264 (Toronto, Ontario)
Frankford Candy & Chocolate
Holiday candy toys, gift baskets, tins boxes and packs filled with gums, jellies, hard candy, molded filled, hollow and solid chocolate under the Frankford name.
BCTGM Local 6 (Philadelphia)
Pearson's Candy Company
Holiday tins, bagged and chocolate mints including The Nut Goodie Bar, Salted Nut Roll, and Pearson's Mint Patties.
BCTGM Local 22 (Twin Cities, Minn.)
Sconza Candy Company
Red, White & Green Chocolate Jordanetts, Christmas Bell Jellies and Rings, Reindeer Corn, Red, White & Green Boston Baked Beans, Yogurt Raisins, Lemoncello Almonds, Chocolate/Yogurt Fruit & Raisins.
BCTGM Local 125 (San Leandro, Calif.)
See's Candies
Holiday tins, baskets, boxes with hard, soft and nut chocolate candies, peppermint twists, fudge and foil chocolate. Chocolate Assortment, Nuts & Chews, Truffles, Lollypops, Brittles & Toffees.
BCTGM Local 125 (San Leandro, Calif.)
Union Made Chocolate Chip Cookies
Crispy Crunchy Chocolate Chip Cookies
Yield: 16 4 inch cookies
Ingredients:
1 cup Ghirardelli Semi-Sweet Chocolate Chips (UFCW)
1 1/3 cups all purpose Gold Medal flour (BCTGM)
1/2 teaspoon baking soda
1/2 teaspoon Morton Brand salt (USW and UFCW)
10 tablespoons (1 1/4 sticks) Land O Lakes unsalted butter, melted and cooled (UAW)
1/3 cup lightly packed White Satin Brand light brown sugar
1/4 cup granulated Domino Brand sugar (UFCW)
2 tablespoons light corn syrup
2 tablespoons Horizon Brand milk
1 teaspoon vanilla extract
3/4 cup to 1 cup chopped pecans or walnuts
Heat oven to 375ºF. Stir flour with baking soda and salt; set aside. In large mixing bowl, beat butter with sugar and brown sugar at medium speed until creamy and lightened in color. Add eggs and vanilla, one at a time. Mix on low speed until incorporated. Gradually blend dry mixture into creamed mixture. Stir in nuts and chocolate chips. Drop by tablespoon onto ungreased cookie sheets. Bake for 9 to 11 minutes or until golden brown. Note: The 11 1/2 ounces of Semi-Sweet Chocolate Chips can be substituted with any variety of chip flavor (i.e.- Milk Chocolate Chips, 60% Cacao Bittersweet Chocolate Chips, etc.)
LabelLetter readers, if you think that public attitudes toward the Labor Movement are formed in part by the media, then read this piece that appeared on Politico. The New York Times has just bought out Steven Greenhouse's contract, leaving the paper without a labor reporter. It's a long-standing trend. Too little reporting results in misperceptions about Labor's aims and importance.

By TIMOTHY NOAH
December 04, 2014
Steven Greenhouse, the labor correspondent for the New York Times, took a buyout this week. That decision immediately reduced by 50 percent the number of reporters at major U.S. newspapers who cover labor full-time—even as the dismal situation of the American worker becomes a central preoccupation for American politicians and policymakers.
To some extent, labor reporters are falling victim to the very same workplace trends they cover. "Newspapers are under the gun financially," observes Greenhouse, "and they've laid off a lot of workers." Editors, he said, don't view labor as "the sexiest beat."
Labor coverage's decline—like that of labor unions—long predates print journalism's circulation slide. At Newsweek, for instance, as long ago as 1985, covering labor was no more than an entry-level job. Bob Cohn (today president and chief operating officer at the Atlantic, then my fellow grunt at Newsweek) became labor and workplace correspondent at the tender age of 22. Back then, he and I would swap wisecracks about what a backwater the beat had become.
Read more on Politico's site.