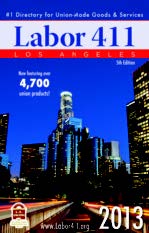 Cherri Senders, Publisher, Labor 411. As a public relations professional specializing in communications for labor unions, Cherri Senders signed an agreement with the Los Angeles Labor Federation that she would "buy union whenever possible." For years, she'd research her purchases beforehand and armed with her shopping list, she'd live up to her agreement.
"It wasn't easy," said Senders. "I had to really do a lot of research. I didn't know how accurate or reliable my sources were."
Senders wanted to support good union jobs so she finally decided that the labor movement needed an accurate and up-to-date union shopping guide—full of union-made products and services. And so Labor 411 was born.
On Labor 411's website [www.labor411.org], Senders sums up the guide's mission: "Working people deserve the support of their neighbors, communities and friends. By making the choice to spend our money on union-made goods and services that are made in our country by workers who are treated fairly, we are helping to protect the middle class, strengthen our national economy and build a stronger America. We call that ethical consumerism…"
Editors note: the March-April 2013 Label Letter newsletter incorrectly identified Labor 411's Website. The correct address is www.labor411.org.