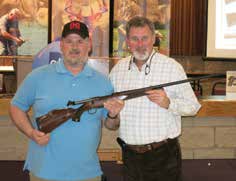 Editor's note: Our May-June 2013 issue included an article, Ohio AFL-CIO hosts largest Union Sportsmen's event ever, which stated, "the USA now has over 6 million members, making it larger than the NRA and the next two largest sportsmen's organizations combined."  That was incorrect.  While the USA does have the ability to reach more than 6 million estimated union members who hunt, fish and shoot through the AFL-CIO and some of its international affiliates, the USA currently has approximately 60,000 active members.  Collectively, this audience makes up the largest constituency of sportsmen and sportswomen in North America.  The USA strives to recruit and unite those sportsmen and sportswomen and grow the organization in order to join the ranks of long-established organizations in order to have a greater conservation impact.
The Ohio AFL-CIO held the 1st Annual Ohio State Conservation Dinner in March boasting more than 500
attendees, making it the largest Union Sportsmen's Alliance (USA) event to date.
Forty-five Local Unions, District Councils and Corporate partners contributed a minimum of $1,000 each to support the USA's Boots on the Ground conservation projects. The funds will go towards the USA's efforts to unite the union community, to educate future generations of sportsmen and women, conserve wildlife habitat and volunteer for projects that improve access to quality places to hunt, fish and shoot.
"In 2012, the members of the Ohio AFLCIO overwhelmingly adopted a resolution at our Conference to support and get engaged with the Union Sportsmen's Alliance," said Ohio AFL-CIO president Tim Burga. "Many union members in Ohio are die-hard sportsmen and women, so we're proud to support an organization dedicated
to their interests and to preserving the future of our outdoor heritage," said Burga.
The dinner was held at the UA Plumbers & Pipefitters Local 189 Hall and was the eighth in a series of Union
Sportsmen's Alliance public events.
The event was planned by a group of 15 volunteers, who spent approximately 250 hours on the event. A Weatherby Ultra Mark V Custom Sporter was auctioned and 63 firearms with a value in excess of $20,000
were given away in raffles and auctions. The event raised $71,000.