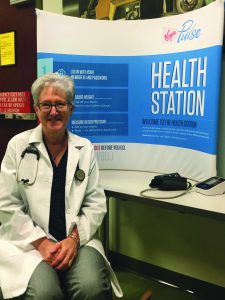 I am a School Community Health Nurse in Montgomery County, Maryland. The County Department of Health and Human Services, not the school system, employs and funds all School Nurses in my county.
As a school nurse, I deal with the usual cuts, scrapes and upset stomachs in schools, but I also deal with very challenging health issues as well. Childhood asthmatics, insulin-dependent diabetics, and a number of other medically fragile students rely on me and my colleagues in our schools, and there are increasingly fewer of us to help.
Each School Community Health Nurse is assigned one to three schools with an unlicensed Health Room Technician in each school. It's a dangerous situation for our students. We've been fighting year-after-year to get the county to fund more nurses.
As a shop steward, I recently testified to the County Council about our need for more nurses, and they finally agreed to grant emergency funding to add a few more nurses. They didn't give us the number we need, but it's a start. I'm hoping once they're hired, they stay.
My union has empowered me to stand up for myself and my coworkers. We can demand better thanks to the union and our collective voices. ■