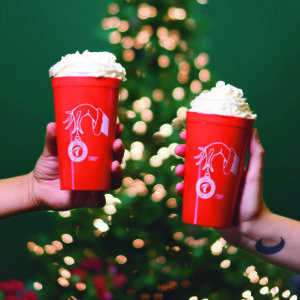 More than 2,000 employees at 112 Starbucks locations held a one-day strike on November 17, according to their union, Starbucks Workers United (SWU). The walkouts coincided with Starbucks' annual Red Cup Day, when the company gives free reusable cups to customers who order a holiday drink. It is said to be one of the busiest days of the year for the coffee giant. Employees participating in the union- backed work stoppage and instead handed out their own red cups with their union logo printed on them.
SWU says the strike was in protest of the Company's continued retaliation against union supporters nationwide. Workers say they were also protesting the company's refusal to bargain with the union. In a statement on the SWU's Facebook page, representatives said, "Starbucks Workers United is conducting a nationwide ULP Strike over the company's refusal to bargain in good faith.
"Workers across this campaign are also calling for the company to fully staff our union stores, because we know that Short Staffing = Venti Wait Times.
"Starbucks thinks they can drag their feet in bargaining, and we're here to show them we rebel against their tactics and we mean business – by shutting down theirs."
Currently, employees at 264 stores have voted in favor of union representation, but no contracts have been negotiated.
A Lakewood, Calif., barista Tyler Keeling told CNN Business that the strike was to "show them we're not playing around." Keeling has worked for the Starbucks location near Los Angeles for six years.
This collective action marks the first time the unionized baristas have banded together across the country to disrupt Starbucks' operations. However, since the first store voted to unionize last year, more than 60 walkouts have occurred at various locations. Those strikes have lasted anywhere from a few hours to more than 20 days.
NLRB Petitions Federal Court for Nationwide Cease and Desist Order Against Starbucks
The National Labor Relations Board (NLRB) petitioned a federal court in Michigan on November 15 for a "nationwide cease and desist order" barring Starbucks from firing its employees for union activity.
This is the fourth time the NLRB has asked a federal court for an injunction ordering the company to rehire fired pro-union employees and to stop committing unfair labor practices.
Starbucks Workers United union representatives have accused the retailer of illegally firing more than 150 employees in retaliation for their support of the union.
NLRB regional director in Detroit, Elizabeth Kerwin, filed the petition with the Eastern District of Michigan. In the petition, Kerwin asked the court to prohibit Starbucks from "discharging employees at any of its stores in the United States and its territories for supporting the union or any other labor organization," and "interfering with, restraining, or coercing employees" from their rights afforded under the National Labor Relations Act.
"Given the number and pattern of Starbucks' unfair labor practices here and elsewhere, particularly discharges, a nationwide cease-and-desist order is necessary to halt Starbucks' systemic campaign of retaliation," the NLRB wrote in a memorandum in support of the preliminary injunction.
The petition was filed just two days before more than 2,000 employees at more than 100 stores held their one-day work stoppage to protest the company's union busting.
To show your support for the Starbucks workers, sign the "No Contract, No Coffee Pledge" at
https://crm.broadstripes.com/ctf/SJID0H ■