By Debby Szeredy, Executive Vice President/American Postal Workers Union
Did you know that the United States had a successful Postal Savings System for more than fifty years? From 1911-1967, working Americans could open a savings account at their local post office, guaranteed through the full faith and credit of the United States and earning interest at 2 percent. At its height in 1947, the Savings System had $3.4 billion in assets (more than $35 billion in today's dollars) or about 10 percent of the entire commercial banking system.
Today, our country is again in great need of affordable financial services. Nearly 28 percent of U.S. households (or 100 million people) do not have access to affordable financial services. A shocking 54 percent of African-American and 47 percent of Latino households are underserved by traditional banks.
For many, traditional banks are out of reach either geographically (bank deserted areas exist in both rural and urban communities), or due to high fees and other obstacles to opening, maintaining and accessing accounts. This lack of access drives millions (mainly the working poor) to rely on costly, predatory services such as check cashing and payday loans, trapping many in a cycle of debt.
Each year, the average underserved household spends $2,412 — nearly 10 percent of gross income — in fees and interest for non-bank financial services. The $100 billion a year Alternative Financial Services (AFS) industry has flooded the communities where the underserved live with products, services and practices that are expensive and often predatory, with typical interest rates of 391 percent!
As United for a Fair Economy puts it, "For the underserved, there is little opportunity to create a credit history, have access to affordable, safe and sustainable financial services, or build assets over time."
The Postal Service is not in business to make a profit for shareholders. Its purpose is to serve the American people. This is in stark contrast to the predatory practices associated with alternative financial services such as payday lending or the high fees of many traditional banks.
The 2008 financial crisis led to widespread anger at, and plummeting public confidence in, big banks. As a result, the interest in alternatives to traditional banks has increased. Postal banking is a public, non-profit option.
"Banks are rapidly abandoning low-income and rural neighborhoods… Luckily, there is an organization with the public mission, the infrastructure, the experience and the well-trained employees needed to help address this problem: the U.S. Postal Service… The Postal Service already has a presence in low-income and rural communities, and it could leverage that infrastructure to provide access to lower-cost basic banking services," writes Senator Elizabeth Warren (D-MA).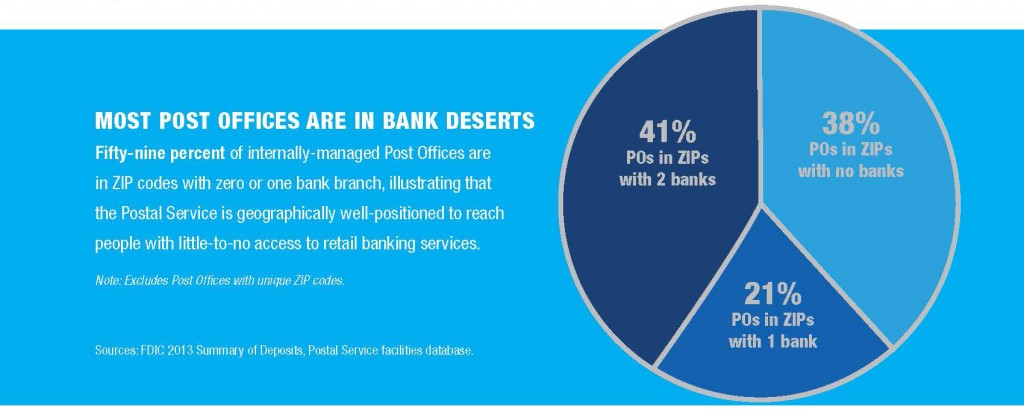 With more than 30,000 local post offices across the country, the US Postal Service is in a unique position to offer basic financial services. Many of those post offices are located in bank deserted areas. Fifty-nine percent of post offices are in zip codes with either zero banks or only one bank branch. The Postal Service is geographically well-positioned to reach people, whether rural, suburban, or urban, with little-to-no access to retail banking services.
After the financial crisis of 2008, public confidence in banks fell to 26 percent. But Americans consistently rank the U.S. Postal Service highest among all federal agencies with more than 70% of those polled saying it does an excellent or good job. According to a November 2014 Gallup poll, the age group that ranks the USPS highest is 18-29 year-olds, at 81%.
The U.S. Postal Service is already providing some financial services. Its workforce is trained and certified to handle many financial transactions including the sale of money orders, international money transfers, and cashing of treasury checks. USPS window clerks processed 500 million money order transactions over the past five years at a face value of $110 billion. That adds up to 378,000 money orders per day in 2014.
Postal Banking will help struggling families nationwide achieve financial stability and will benefit consumers who would prefer a more public option. And the expansion of services will strengthen our public Postal Service.
The Campaign for Postal Banking is a coalition of labor, consumer, financial reform, faith-based and citizen groups that is calling for low-cost, consumer-driven products and services that could range from check cashing to bill payment to savings accounts to small-dollar loans.
Visit www.campaignforpostalbanking.org to learn more and to add your voice to the call for affordable financial services at the post office!