Living up to his promise to give labor a seat at the table, President-elect Joe Biden invited labor leaders to participate in a roundtable discussion on November 16 to discuss economic recovery during the coronavirus pandemic.
In a Zoom call that included CEOs from General Motors, Microsoft, Target and Gap as well as union leaders Rich Trumka, president of AFL-CIO; Mary Kay Henry, president of the Service Employees International Union; Rory Gamble, president of the United Auto Workers; Marc Perrone, president of the United Food and Commercial Workers; and Lee Saunders, president of the American Federation of State, County and Municipal Employees; President-elect Biden thanked the group for participating and explained that his objective was to "get our economy back on track. We all agree on the common goals, just have a slightly different perspective."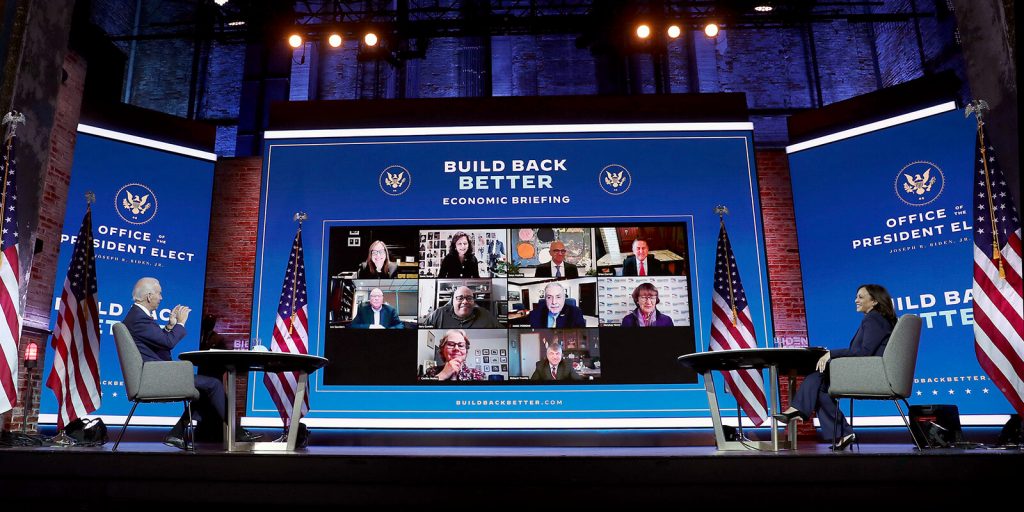 In remarks released by the AFL-CIO, Trumka told Biden and other meeting participants, "we need to manufacture the respirators and personal protective equipment that continue to be in short supply. We need to make an investment to retrofit our workplaces and schools to meet ventilation and distancing requirements scientists and workplace safety experts tell us are absolutely vital. We need to make sure all COVID-19 cases are counted and reported so we know where major outbreaks are before they get worse."
Biden has said repeatedly that they cannot successfully address the economy without addressing COVID-19. Harris agreed saying that their goal is "opening this economy responsibly and rebuilding it so it works for all working people."
Addressing everything from raising the federal minimum wage, paid family leave, parental leave and child care tax credits, Biden and Harris called for Congressional action to pass a COVID relief package like the House-approved Heroes Act.
"We cannot wait any longer," Trumka told Biden in calling for the Occupational Safety and Health Administration (OSHA) to issue an immediate, temporary emergency standard, ordering employers to develop and impose antivirus protection plans.
If "all work has dignity, then all workplaces need to focus on safety. It's not too late to save tens of thousands of lives. That starts with a strong COVID-19 safety standard on day one," Trumka said.
"Our nation and economy are at a crucial point right now given the rise in COVID-19 cases," Gamble said in a statement released by the United Auto Workers. He added that the "discussion among labor and business leaders was a productive and honest discussion of the challenges we all face in manufacturing and business to wrestle control of a very difficult situation for our economy."
"But we all expressed … to the incoming administration an acute need for an immediate economic package for those hardest hit by this pandemic, help for our states and our frontline providers," Gamble said. ■