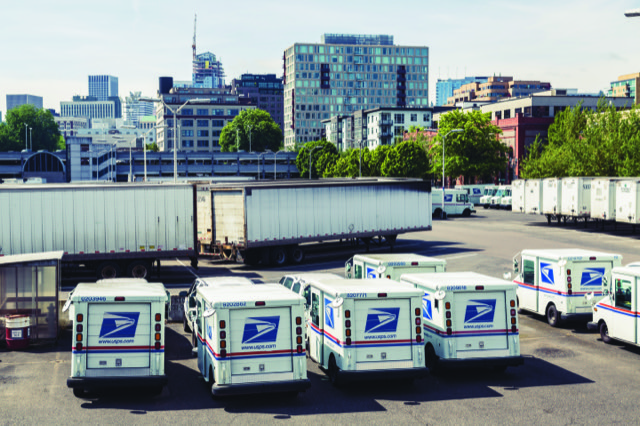 BIDEN NOMINATES THREE TO U.S. POSTAL BOARD OF GOVERNORS
In an effort to reassert control over the U.S. Postal Service, President Biden has nominated two Democrats and one Independent to fill vacancies on the Postal Service's governing board. Biden's nominees are Ron Stroman, the Postal Service's recently retired deputy postmaster general; Amber McReynolds, the chief executive of the National Vote at Home Institute; and Anton Hajjar, the former general counsel of the American Postal Workers Union (APWU).
If all three are confirmed by the Senate, the nine-member board would be made up of an equal number of Democrats and Republicans with McReynolds as the lone independent. The appointment of these new members would create a Democratic majority on the Board and potentially lead to the ousting of the controversial Postmaster General Louis DeJoy. DeJoy's overhaul of the Postal Service last year wreaked havoc on the USPS, slowing delivery, reducing mail processing capabilities, and sowing public distrust in the popular agency. Despite the intense public scrutiny, DeJoy has said he will continue to push through his agenda which would increase the cost of mailing and slow the speed of parcel deliveries. Congressional Democrats have publicly called for President Biden to move quickly to fill the vacancies on the Board and have even called on Biden to fire the Board's six sitting members and start from scratch.
In a hearing before the House Oversight and Reform Committee in February, the current Board's lack of diversity was noted when Representative Cori Bush (D-MO) asked DeJoy, "do you see it as a problem that the board of governors of the United States Postal Service looks like a millionaire White boys' club?" He continued, stating that "more than 35 percent of postal workers are people of color."
The Washington Post reports that the six current members of the board "are all older men, and all but one is white. The Postal Service's workforce is disproportionately Black and female, compared to the rest of the federal workforce and the agency has been a historical driver of employment in Black communities."
In a letter to President Biden, Representative Ayanna Pressley also called for more diversity on the Board, "I encourage you to ensure your appointees are reflective of the 600,000 dedicated workers they will lead," she wrote. "We need a Board of Governors that includes women, people of color, and individuals who have direct experience working for the USPS and serving our communities."
Mark Dimondstein, president of the American Postal Workers Union praised Biden's nominees telling the postalreporter.com "they represent an experienced group who will oversee any potential changes to the agency's operations."
"The board has the right to hire and fire postmaster generals, so DeJoy's certainly going to have to function in a way that keeps the support of the board. He's going to be dealing with some changing dynamics on the board."
The National Association of Letter Carriers (NALC) President Frederico Rolando issued a statement on the nominations saying, "NALC appreciates the White House prioritizing these vacancies and looks forward to working with the Senate to move their nominations as soon as possible. NALC urges the White House and Senate to also renominate Ron Bloom, who was recently named as Chairman of the Board of Governors and whose term expired in December." Bloom, the lone Democrat currently on the board, continues to serve during a one-year holdover permitted under the law. ■