In April, over one thousand coal miners at Warrior Met Coal in Brookwood, Alabama, walked off the job. The workers, members of District 20 of the United Mine Workers of America (UMWA), are the first miners in Alabama to go on strike in 40 years.
The unfair labor practice strike against Warrior Met stems from what the union says was the company's conduct during negotiations.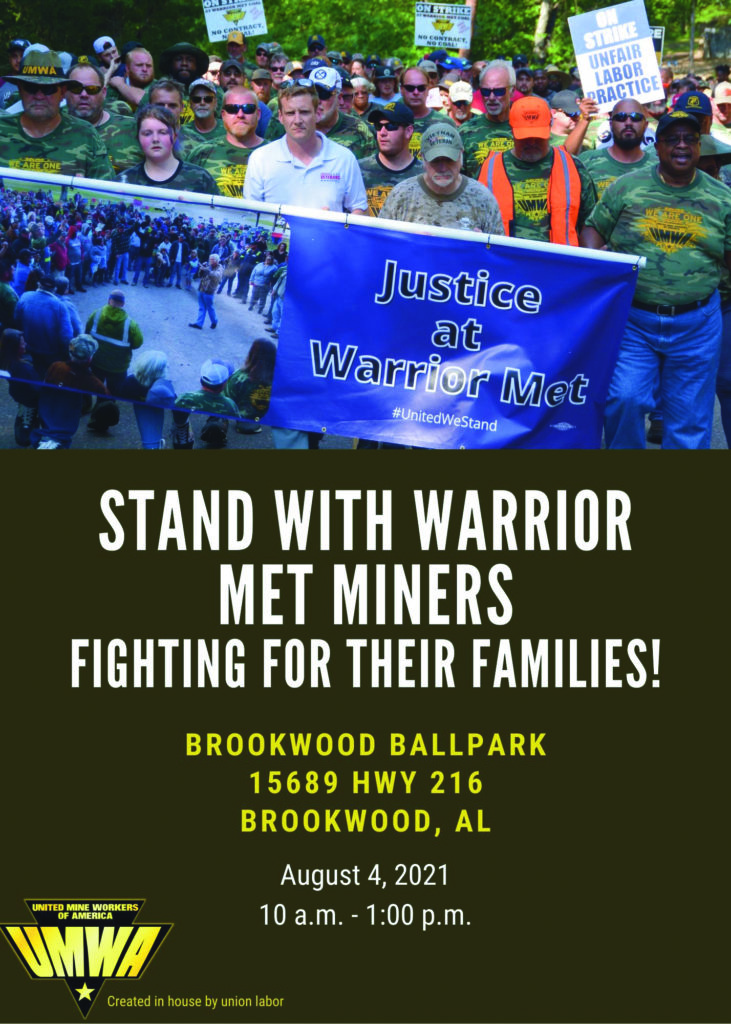 About a week into the strike, the company and UMWA leadership presented a tentative agreement to the membership that was overwhelmingly rejected.
The striking workers say that Warrior Met, which purchased the company from previous owner Jim Walter Resources after it filed for bankruptcy, promised to rehire the bulk of the workforce that had been laid off. That promise, made five years ago, led to the membership accepting a subpar contract that slashed pay and benefits.
According to The Nation, "Pay was slashed by $6 per hour to an average of $22; workers lost many of their paid holidays, some of their time off, and their ability to earn overtime pay; and their health insurance costs went way up while safety standards and working conditions went way down. A severe policy for absences from work that eliminated any flexibility whatsoever in case of unexpected sickness or emergencies was also enacted."
"What Warrior Met has offered up is just a tiny fraction of what the workers gave up five years ago," UMWA General President Cecil Roberts said after the April no vote. "But these workers are tired of being mistreated on the job. They are tired of being forced to work on holidays and missing time with their families. They are tired of being tired after working 12-hour shifts six- and sometimes seven-days-a-week. Warrior Met knows it is exploiting these workers, and it's time for it to stop."
At a rally in late June, Roberts said the union had distributed $4.3 million to the strikers during the three months of the strike, with $3.1 million in direct strike benefits, almost $700,000 in health care costs from the UMWA Selective Strike Fund, and $500,000 to members from donations to the Strike Aid Fund.
The union has also received contributions from other unions, such as $200,000 from the United Food and Commercial Workers. ■