Frito-Lay Workers Ratify New Contract, as Parent Pepsico Faces Separate Strike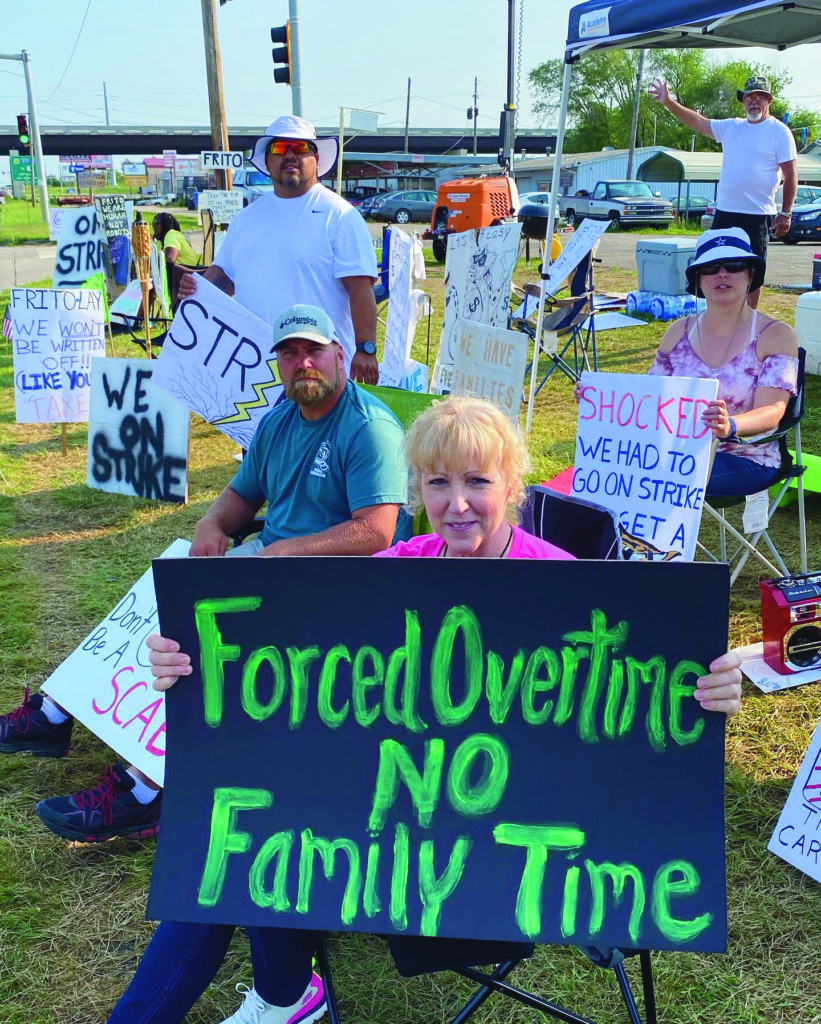 After a three-week strike, hundreds of Bakery, Confectionary, Tobacco and Grain Millers (BCTGM) members from the Frito-Lay Topeka, Kan., plant will return to work under a new contract, granting them a long-awaited pay raise and a guaranteed day off each week, issues that had driven them to strike back on July 5.
BCTGM Local 218 members at the plant went on strike after talks broke down. Members had rejected what the company called its last, best, and final offer and voted to strike, citing unbearable forced overtime, low wages, and lack of work-life balance. Local 218 members told the press that many workers were forced to work "suicide shifts," which are two 12-hour shifts in a row with only an eight-hour rest period between shifts.
In a statement by BCTGM International President Anthony Shelton, the union said that it had warned management repeatedly over the last decade that employees were being forced to work too much.
"Current employees are being forced to work seven days a week, up to 12 hours per shift. Many of the more than 800 workers are only getting an eight-hour break between shifts. They are forcing the current workforce to work double and triple shifts. Workers do not have enough time to see their family, do chores around the house, run errands, or even get a healthy night's sleep. This strike is about working people having a voice in their futures and taking a stand for their families," the statement read.
In addition to the forced overtime, workers at the plant cited low wages as another reason for striking. One employee, Monk Drapeaux-Stewart said that in the 12 years he has worked at the company, he only received a 77-cent raise in hourly pay and a couple of lump sum bonuses.
Another employee, 59-year-old palletizer and Local 218 Steward Mark McCarter, who has worked at Frito-Lay for 37 years, told the online magazine Vice that he makes "$20.50 an hour after 37 years here. Most people make between $16.50 and $20.00 an hour. I haven't gotten a raise in a decade."
The membership of Local 218 voted on July 23 to accept the newly negotiated contract with the company.
The new two-year agreement includes a four percent wage increase for all job classifications and a guaranteed day off each work week. It also eliminates the company's forced "suicide shifts."
President Shelton said the workers in Kansas have "shown the world that union working people can stand up against the largest food companies in the world and claim victory for themselves, their families and their communities."
Frito-Lay is owned by PepsiCo which has three major divisions in North America: PepsiCo Beverages, which owns brands like Pepsi, Mountain Dew, and Gatorade; Frito-Lay, which covers snacks like Lay's and Doritos; and Quaker Foods, which has Quaker Oats, Cap 'n Crunch, and Rice-A-Roni. PepsiCo is a multi-billion-dollar company that saw its revenue surge 20.5 percent year-over-year at $19.22 billion.
Pepsico Workers Walk Off
A week into the BCTGM strike in Kansas, workers at the Pepsi bottling plant in Munster, Ind., walked off the job. The more than 100 truck drivers and members of the International Brotherhood of Teamsters Local 142 (IBT), rejected the company's final offer and began their work stoppage on July 12. The Local says they are fighting the company's increase to workers' share of healthcare premiums. Pepsi transport driver Tom Albano said the increase would cost workers about $20 a week over each year of the four-year contract.
"We shouldn't be paying for it in the first place. This is a multibillion-dollar company," Albano said. "And the raises the company is offering are not going to cover, or barely cover what the increase is going to be in your health insurance.
Albano said that the current employee share of healthcare premium is $14 per week, the company proposal would have increase that share to $81 per week by 2025. ■